Your Key to Quality Welding
Industry-leading, advanced TIG welding technology that combines increased productivity with high quality results.

K-TIG is advancing the torch in the welding industry. K-TIG has capitalized on innovative technology from Australia's CSIRO (Commonwealth Scientific and Industrial Research Organization) to transform the economics of fabrication for customers in a range of different industries - from defense to pipes, tanks & vessels. This allows K-TIG customers to stay on the cutting edge of their industries and remain competitive.

K-TIG is also thinking beyond the torch. K-TIG has a culture of continuous improvement and innovation. This allows K-TIG to work with strategic partners across the globe to integrate the K-TIG system with new and existing welding cells.
The Flexibility to Meet Your Needs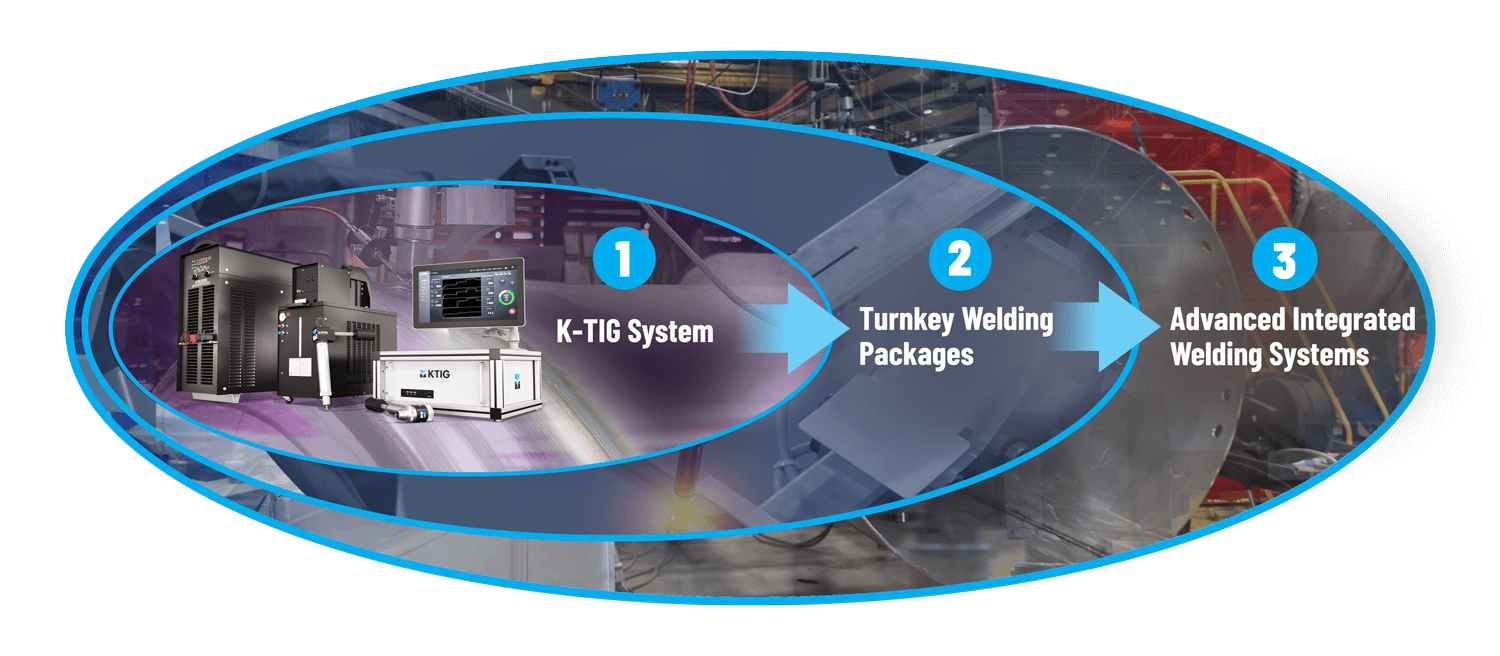 > Torch
> Controller
> Power Supply
> Water Cooler
> Wire Feeder
> Torch Mount
> Cabling

> Torch
> Controller
> Power Supply
> Water Cooler
> Wire Feeder
> Torch Mount
> Cabling
+ Automation or Robotics

> Torch
> Controller
> Power Supply
> Water Cooler
> Wire Feeder
> Torch Mount
> Cabling
> Automation or Robotics
+ Integration with Other Systems
Quality Welds at a Lower Cost Than Traditional Welds
Our Keyhole TIG / GTAW system is a productivity multiplier that welds thicker materials faster and at a higher quality than other welding methods. This technological edge results in dramatic productivity increases and can give our customers a distinct advantage over competitors.

Due to the remarkable welding speeds and production output of the K-TIG system, our customers are able to meet even the tightest production schedules.

The cutting edge technology of K-TIG allows customers to make significant savings without compromising on high quality output.
Part of a Manufacturing Ecosystem (Not a Solitary Component)
The K-TIG system can be integrated with most types of welding automation components, including positioners, rotators, headstock, tail stock, turning rolls, column & boom manipulators, longitudinal steamers, buggies, carriages and robots.

With the K-TIG system, you're getting more than just the torch. You're getting an advanced TIG welding system to support your productivity.
Continuous Technical Support Based on Your Specific Requirements
K-TIG continues to work with you and offer technical support to ensure all your needs are met.

Our robust welding system delivers reliable results, allowing customers to easily meet all major code requirements like ASME, AWS, API, BS, CSA, CEN and AS/NZS. This is validated by K-TIG's sales in more than 20 countries, enabling customers to achieve high performance and compliance with these key codes.

There is a broad range of case studies across a spectrum of industries to show the successful application of K-TIG technology.
Expertise From Our Relationships With Strategic Partners
K-TIG adopts an end-to-end approach in assisting customers and partners by helping to improve processes that occur before and after welding operations.

Our distributor and strategic partner network continues to expand to provide solutions and innovation for our customers, staying ahead of the curve in welding automation.
Advanced Controller System and Software
The K-TIG advanced controller system includes many benefits, including:
Unlimited parameters
Ease of use
Reporting functionality
Raw and formatted data
On-device storage for secure content
Cloud enabled capabilities
Your K-TIG software continues to receive proactive updates to keep your competitive edge as sharp as possible.
This support is designed to keep your K-TIG system working at optimal levels and ready for whatever challenges you may face.
K-TIG can be applied across a wide range of industries
Keyhole TIG Pty Ltd
+618 7324 6800
Building 5, 9 William Street
Mile End, SA 5031
Australia
Keyhole TIG (USA) Inc.
+1 724 990 3724
1001 Technology Drive, Suite 1049
Mount Pleasant, PA 15666-1782
United States of America
Keyhole TIG (UK) Pty Ltd
+447 393 539 841
Unit 3B, Magna 34 Business Park
Temple Road, Rotherham, Sheffield
South Yorkshire S60 1FG
United Kingdom