Automated Welding
Industry leading, advanced TIG welding technology that combines increased productivity with high quality results.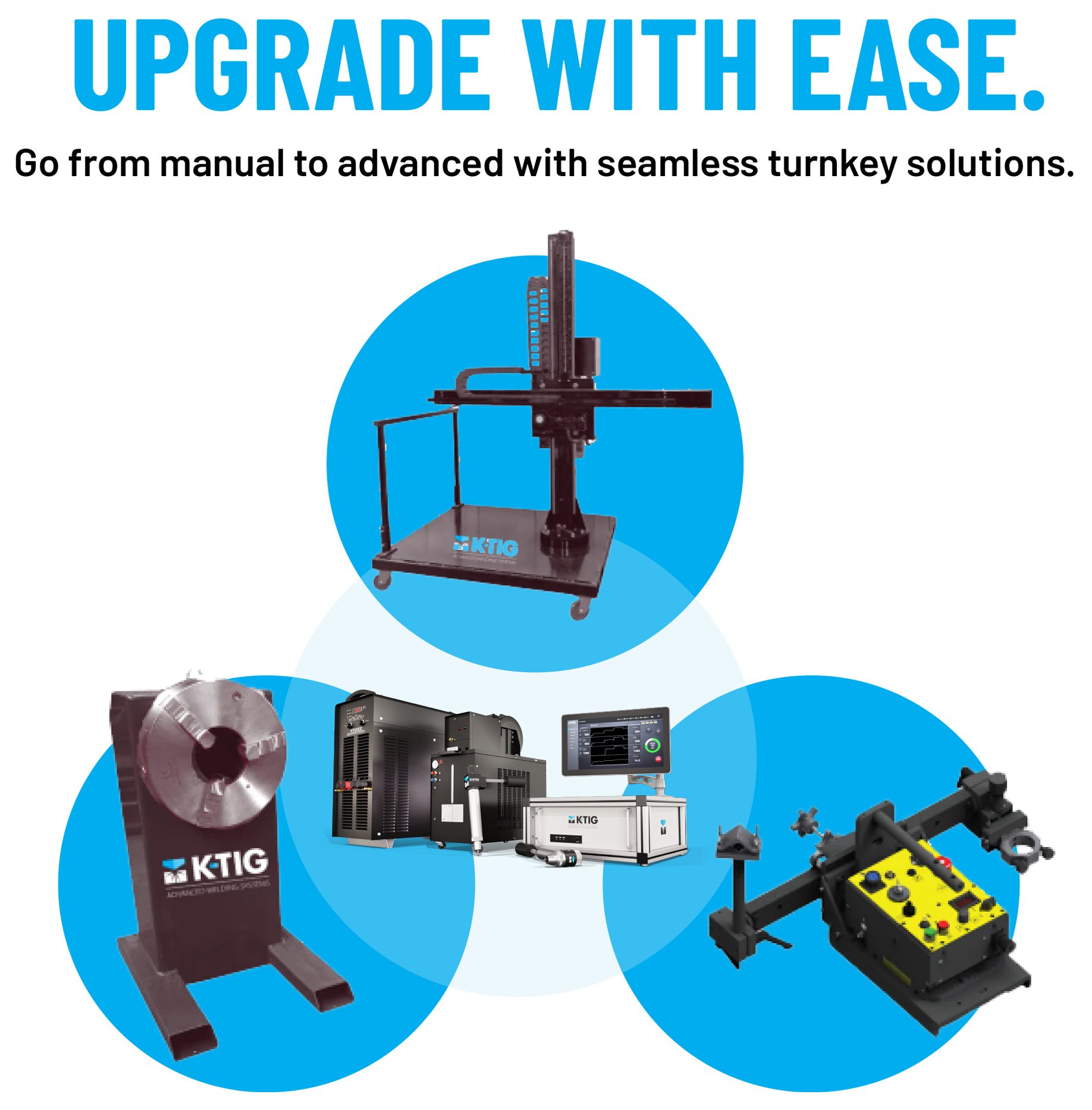 Welding Automation is Your Key to Overcoming the Welder Shortage
Welding automation is the use of equipment programmed through computers to perform welding tasks that had been performed manually. Such devices can include robotic arms, welding manipulators, and other machines that are designed to perform welding tasks with high precision and consistency. Welding automation can be a valuable tool for overcoming the shortage of welders and improving the efficiency and safety of welding operations.
Welding automation can offer many advantages, including increased productivity, improved quality, and reduced labor costs. Companies that do not adopt welding automation may find it difficult to compete with those that do, particularly in industries in which automation is becoming more common.
At K-TIG, we understand the challenges that come with welding pipes, tanks, and vessels, and so we have combined a range of automation equipment designed to enhance efficiency and deliver exceptional results. Our equipment (headstocks/ rotators/manipulators/columns and booms and track systems) are meticulously crafted to meet the highest industry standards, ensuring precise movement and positioning during the welding process.

One of the standout features of our automation equipment is the integration with our innovative K-TIG system. This integration allows for seamless coordination between the equipment from our controller, creating a cohesive and synchronized workflow. By investing in our turnkey welding pipe cells, you can significantly enhance your production capabilities.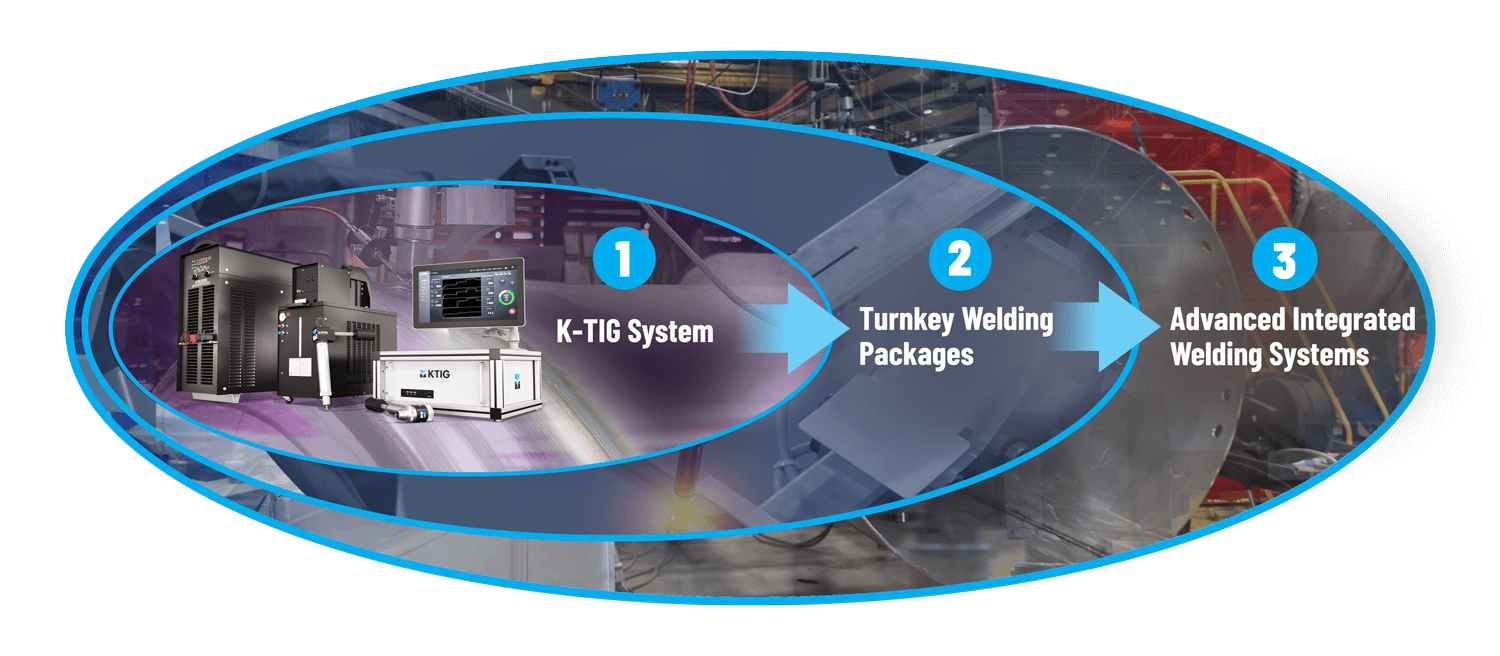 > Torch
> Controller
> Power Supply
> Water Cooler
> Wire Feeder
> Torch Mount
> Cabling

> Torch
> Controller
> Power Supply
> Water Cooler
> Wire Feeder
> Torch Mount
> Cabling
+ Automation or Robotics

> Torch
> Controller
> Power Supply
> Water Cooler
> Wire Feeder
> Torch Mount
> Cabling
> Automation or Robotics
+ Integration with Other Systems
Quality improvements that companies using welding automation can experience include Consistency, Accuracy, Fewer Errors, and Greater Efficiency. Welding automation can also help you achieve Improved Safety.
Automated welding technologies yield optimal results if you consider these factors when deciding which automated system is best for your needs: System Design, Programming, Quality Control, Operator Training, and Maintenance.
The K-TIG high-speed automated welding process uses a variation of Keyhole Gas Tungsten Arc Welding (GTAW) technology to produce high-quality welds. Our Keyhole Tungsten Inert Gas technology (the reason for our company's name) can be used to achieve repeatable results at Higher Speeds (up to 30x faster than traditional TIG welding processes), Better Weld Quality, Reduced Operator Fatigue, Better Welding Environment, and Less Material Waste.
Making the Right Decision
Automated Welding Process

Step 1: stainless steel coils are fed at one end of the machine
Step 2: metal sheet is progressively shaped into a pipe shape using a series of roll dies to achieve the desired specifications
Step 3: the formed pipe enters an integrated seamer that uses K-TIG (Keyhole Tungsten Inert Gas) technology to weld the material in a single pass with full penetration
Step 4: the pipe continues its journey, automatically, into heat treatment
Step 5: the pipe enters cooling stations
Step 6: the pipe is cut to desired length
Step 7: the pipe is sent to inspection
Step 8: the finished product is shipped to the customer
Notably, in large part due to the K-TIG technology and its effective integration into the line, there are almost no rejects as pipes pass the x-ray test 100% of the time, day after day.
Determining the quality of a welding automation system that's best for your specific needs requires evaluating several factors, including Precision and Consistency, Versatility, Efficiency, Ease of Use, and Reliability. Conducting research, reading reviews, and speaking with experts can help you make an informed decision.
The best welding automation systems achieve consistent travel speeds by using advanced control systems that regulate the speed and motion of the welding equipment. Systems with the most consistent travel speeds feature Feedback Systems, Process Control, and Programming that use the most modern technologies.
Older automation equipment, such as rotators and headstocks, can provide quality welds if they are properly maintained and used correctly.
Putting Your Equipment to the Test
To determine of your equipment can be integrated with a K-TIG automated system, you should take these five actions: Check the welding parameters; Test the speed; Check the torch; Conduct test welds; and Evaluate the results.
If the quality of your welds meets the required standards, then your welding automation equipment is compatible with K-TIG. If your quality results fall short of the mark, it may be necessary to adjust your welding parameters or upgrade your equipment.
To improve productivity, efficiency, and competitiveness through automated welding that uses the latest technology…