1. Will K-TIG work on my application?
K-TIG (Keyhole TIG) is a variant of GTAW, and delivers exceptional productivity across a wide range of applications.
K-TIG easily handles longitudinal and circumferential welds on pipes, plates, vessels, tanks and many other applications.
K-TIG does not require edge bevelling, and requires only a simple square butt joint. No root gap is required. K-TIG can also be used to weld into all standard edge preparations. It can also be used in a single bevel weld joint configuration, suitable to process pipe welding applications.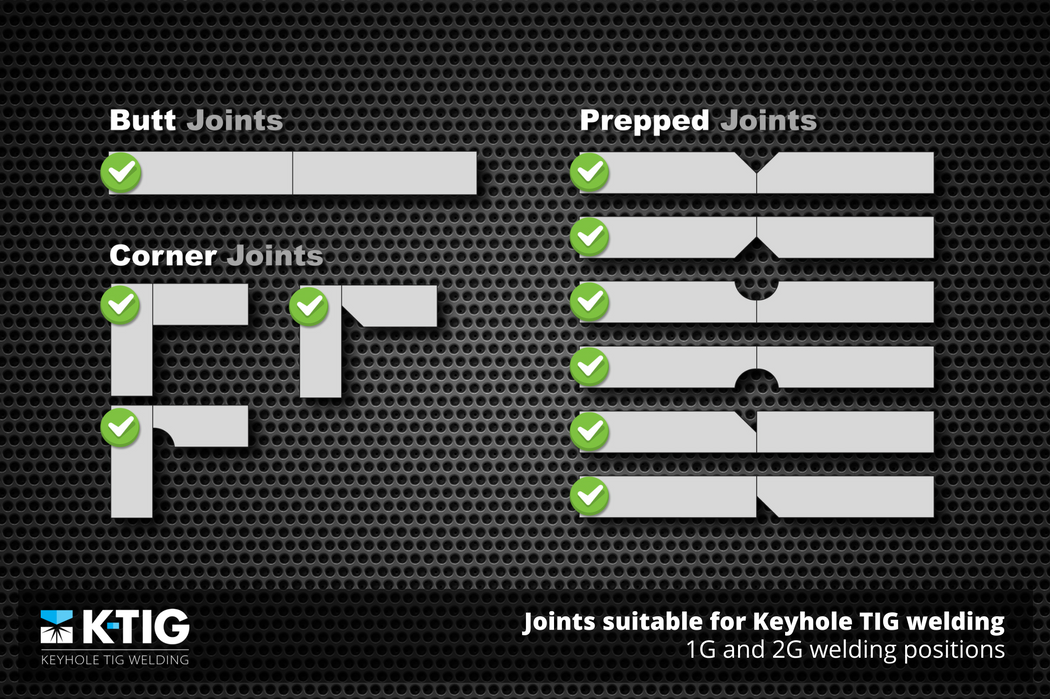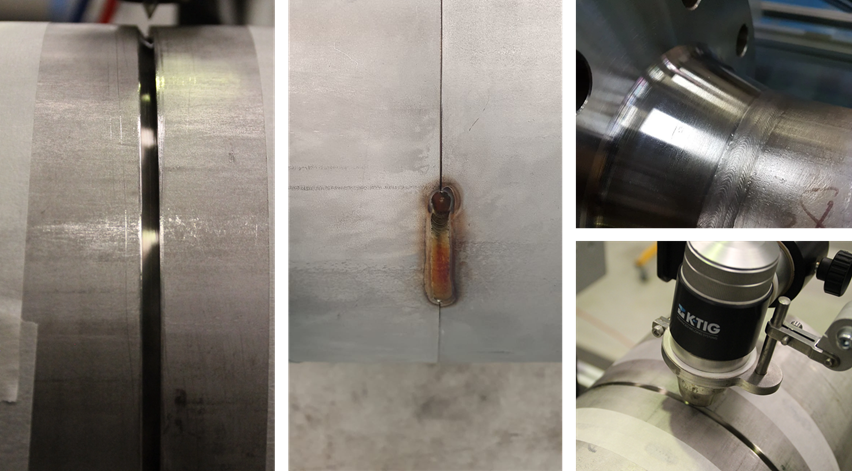 Materials
K-TIG is a precision process and is best suited to corrosion resistant materials, exotic materials and some carbon steels.
Material Thicknesses
K-TIG's ideal thickness ranges are:
Austenitic Stainless Steel up to 1/2 inch (12mm) thickness
High quality carbon steel up to 1/4 inch (6mm) thickness
Duplex & Super Duplex up to 1/2 inch (12mm) thickness
Nickel alloys & super alloys up to 1/2 inch (12mm) thickness
Titanium up to 5/8 inch (16mm) thickness
If it's thinner (1mm or 2mm), K-TIG welds in TIG (melt-in) mode. In this mode the weld will be single pass, however this isn't considered a keyhole weld.
If it's thicker than K-TIG's maximum penetration, outstanding productivity benefits are realised by combining a deep full-penetration K-TIG root pass, with a shallow v-prep which is filled using the K-TIG wire feeder. This equates to fewer passes, reduces fill and reduced welding times for any thickness. The filler pass can be performed by K-TIG or by another welding process.
Joints
K-TIG is ideally suited to longitudinal, circumferential and
outside corner joints
. It only requires a square butt joint presentation, with no bevelling required when welding within K-TIG's normal thickness ranges.
2. What are K-TIG's limitations?
Like all systems K-TIG has some limitations. Here they are, plain and simple:
Positions
The K-TIG system welds effortlessly in 1G and 2G welding positions. It's not intended for orbital (5G/6G) applications.
Materials
Copper and aluminium cannot be welded with K-TIG.
K-TIG can deliver exceptional results when welding high-quality carbon steel up to 1/4 inch (6mm) thickness. Examples of carbon steels that are generally suitable
include:
350 grade, A106, AS1548, ASTM A709, ASTM A572, ASTM A516, ASTM A131 and most pipeline grade carbon steels.

To ensure your success we will review your material mill certificate and we'll weld a coupon for you. Our goal is to allow you to leverage our expertise to ensure outstanding results for your company.
Pipe Diameters
K-TIG can readily weld pipe diameters down to 4 inches NB (114mm OD). The tie-in on pipes with diameters smaller than 4 inches become challenging as the weld is completed within seconds and the tie-in (joining the beginning and end of the weld) must be performed over very hot material. Essentially K-TIG is too fast for very small diameter pipes.
3. Who else is using K-TIG?
We're proud to say K-TIG has exported to 20 countries and has been adopted by some of the world's most advanced and productive fabricators.
In addition, we have seen dramatic productivity improvements in general industrial applications. Particularly in Process pipe fabrication, Pipe & Tube mills, Tank & Vessel fabrication across a wide range of industries.
Our customers range from multinationals like GE and Siemens to industry specialists such as Bilfinger, Doncasters, Sharpsville Container, Darchem, RV Industries and many others.
We actively partner with leading advanced manufacturing centers such as the Nuclear Advanced Manufacturing Research Centre (NAMRC) in the UK, the Defence Materials Technology Centre (DMTC) in Australia and GE Global Research Centre in the US.
What productivity gains and savings can you expect in your application? Check out some case studies here.