Some of the Benefits of K-TIG Include:
Is capable of delivering overall savings in excess of 90%
Is up to 100x faster than TIG/GTAW
Can weld up to 16mm thick material in a single, full penetration weld pass
Eliminates the need for joint bevelling (only square edges are needed)
Eliminates the need for filler materials
Reduces power consumption by up to 95%
Reduces gas consumption by up to 95%
Dramatically reduces welding labour costs
Eliminates the need for back gouging & cleaning;
Dramatically improves OH&S conditions
Is fully automated
Is capable of high weld speeds & quality with exotic materials including stainless steel, titanium, nickel alloys, cobalt alloys and zirconium

Productivity Gains for the Oil & Gas Industry
The welding productivity bar has been raised.
K-TIG is a welding technology designed to help fabricators to be more productive – by an order of magnitude.
Complete projects in a fraction of the time, at a fraction of the cost.
Outbid your competitors on both cost and timing, while increasing your margin.
Repatriate fabrication projects that have been offshored due to high local labour costs.
Expand your fabrication offerings into a much broader range of corrosion resistant materials.
Grow your operation significantly without growing your headcount.
If you are a production fabricator welding corrosion resistant materials for the Oil & Gas sector, K-TIG is so sure we'll reduce your costs & increase your productivity – we guarantee it in a wide range of materials and thicknesses.
Find out more about the K-TIG Performance Guarantee.


Materials & Thicknesses
More materials. More opportunity.
Stainless steels - Ferritic. Austenitic. Duplex & Super-Duplex
Titanium & titanium alloys
Zirconium & zirconium alloys
Nickel alloys - Monel. Inconel. Incoloy. Hastelloy. Nimonic
Cobalt alloys
Super alloys
Low sulphur carbon steels
Bisalloys (quench & tempered steels)
K-TIG delivers incredible results in more materials. In a single pass.
K-TIG provides exceptional quality welds across a wide range of corrosion resistant, exotic and conventional materials, and excels in the medium to heavy gauge austenitic metals used extensively in Oil & Gas fabrication.
K-TIG welding is a low distortion process. Unlike plasma, laser and electron beam welding, K-TIG is tolerant to imperfections and creates a highly stable, self-correcting full-penetration keyhole across a wide spectrum of metals.
Macrograph of K-TIG weld in 10.5 mm thick AISI 304 stainless steel plate as-welded.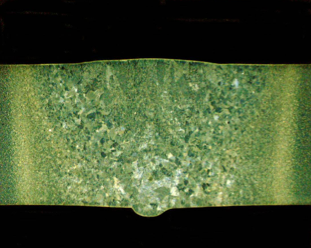 Macrograph of K-TIG weld in 6.35 mm thick Zirconium, ZR 702 plate as-welded.


Speed
A welding process with extraordinary speed. In thick materials.
K-TIG provides order-of-magnitude increases in productivity in Oil & Gas fabrication, with welding speeds up to 100x faster than conventional TIG/GTAW welding.
By way of example, a conventional 6-hour TIG weld in 10 inch schedule 40 stainless steel is typically completed in less than 4 minutes.
K-TIG welding systems perform welds of up to 16mm thickness in a single pass, while eliminating the need for filler wire, edge beveling and skilled operators.
K-TIG's value proposition is as powerful as it is straightforward. Productivity up. Costs down. Payback measured in months, not years.


Quality
Nuclear grade weld quality comes standard.
A K-TIG weld is performed autogenously, without the need for filler wire, in a single full-penetration pass. The resulting weld is 100% parent material, without multiple fusion lines, virtually eliminating the potential for inclusions and dramatically reducing the potential for porosity and other defects typical of many welding processes. It is a low distortion process, with heat inputs well within normal ranges.
K-TIG's ripple-free weld pool provides an exceptional quality cap and root that requires no back-gouging, finishing, cleaning or interpass grinding.
The K-TIG welding system executes programmable weld sequences to ensure exceptional quality welds that are consistent and repeatable.


Labour Requirements
Dramatic reductions in labour cost.
K-TIG is a high speed process which delivers very significant productivity gains and labour cost savings.

A typical example in stainless steel: 9.5mm thick 316 stainless steel pipe, diameter 270mm.
Wire Consumption
Wire consumables – a thing of the past.
In addition to the very tangible savings in labour time, there are significant intangible savings. The stress on the operator is vastly reduced, welding fatigue is greatly reduced and operator focus can be fully directed to process supervision and quality control rather than the physically and mentally taxing process of performing the weld manually.
Have you ever pondered the effort and cost associated with applying a preparation to your materials, and the cost and effort associated with filling it? The cost - in materials, time, labour and impact on the environment - is enormous.
K-TIG is an autogenous welding process which requires no wire in most Oil & Gas fabrication applications.
In situations where wire addition is helpful (such as when the thickness limits of the K-TIG process are exceeded, a heavy reinforcement is desirable or your procedure demands the addition of wire), wire consumption will typically be reduced by more than 90%.
Gas & Power Consumption
Reducing the footprint of fabrication.
K-TIG is passionately committed to reducing the vast amounts of energy consumed by conventional welding processes in Oil & Gas and other fabrications sectors.
Industrial fabrication, and the welding process in particular, is a highly energy intensive process involving the consumption of large quantities of gas, electricity and consumables.
K-TIG consumes as little as 1/20th of the energy and gas consumed by TIG/GTAW for the same weld, dramatically reducing the carbon footprint of our customers.
We're committed to the development of technologies which reduce energy consumption, improve the sustainability of our industry and improve occupational health and safety.


Health & Safety
Create a safe, clean, low-fume environment.
K-TIG delivers significant occupational health and safety advantages.
The minimization of fume generation, particularly involving carcinogenic compounds, electromagnetic emission and overall energy consumption are critical concerns for business owners, company directors and supervisors involved in Oil & Gas and other industries.
K-TIG performs exceptionally well on each count, generating negligible fumes and vastly lower energy consumption through much shorter arc on times, greatly improved arc efficiency and the elimination of edge beveling.
K-TIG operators are typically removed from the arc zone, and may control the welding process remotely using the K-TIG pendant, further reducing potential health and safety impacts.


Repeatability
Infinitely repeatable, high quality welds.
K-TIG welds are highly consistent. The development and fine tuning of a K-TIG weld routine typically takes only hours, not days or weeks, because of the high speed of the process and the simplicity of the process itself.
Once the procedure has been established, it is saved to the controller and the operator's role becomes one of weld supervision rather than welding per se. This ensures high quality, repeatable welds that are fully compliant with an approved procedure.


Welding Automation
Complex welding sequences at the press of a button.
K-TIG weld routines are fully automated and managed by the K-TIG controller, eliminating variations in weld speed and quality, and welder fatigue.
Typically, only one button press by the operator is required. The K-TIG controller will process the weld routine, turn on the rotator (or other weld automation equipment), turn on the gas, strike the arc, ramp up the current, perform the full penetration keyhole weld, perform the tie-in, ramp down the current, close the keyhole, turn off the power supply, turn off the gas, turn off the rotator and then go into standby ready for the next weld.


Edge Preparation
Goodbye to beveling.
K-TIG welds require no edge bevelling. Save the time, labour, energy and cost of V-prepping your materials. Eliminate the need for setting root gaps.
K-TIG requires only a square butt presentation.
Tack welds are simply consumed in the K-TIG process. K-TIG can also be used to perform a sealing pass around the joint prior to welding if airtight purging is required for reactive materials such as titanium.


Aesthetics
Looks count.
K-TIG welds provide a ripple-free finish that eliminates the need for cleaning, grinding, back-gouging and post-weld finishing.
In addition, the ability to produce smooth root profiles can provide a significant advantage in a number of applications, such as pipes which are intended to carry a corrosive sludge where a heavy root bead can increase wear and a loss of material through abrasion, impact, erosion, galling, cavitations, a higher frequency of repairs and a reduced life of the pipe.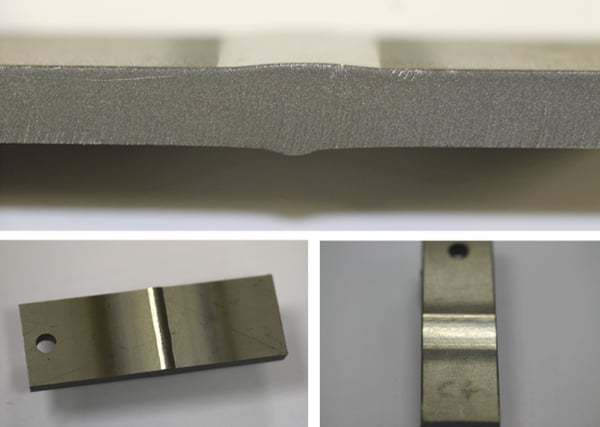 K-TIG weld in 6mm Titanium, as welded.